History
Command History Documents of the USS King (DLG-10)
History
Command History Documents of the USS King (DDG-41)
1960
Command History for 1960
From: Commanding Officer, USS KING (DLG-10)
To: Chief of Naval Operations (OP-291SH)
Subj: Ships History Report for period ending 31 December 1960
Encl: (1) Photographs of USS KING (DLG-10)
1. This first Ship's History Report for the USS KING (DLG-10) for the period ending 31 December 1960 is submitted herewith.
a. The USS KING was authorized by Congress in the 1956 Shipbuilding Program. Her keel was laid in March 1957 at Puget Sound Naval Shipyard Bremerton, Washington. She was launched 6 December 1958, and commissioned on 17 November 1960. The USS KING (DLG-l0) is the first ship to be named after Fleet Admiral Ernest J. KING. CDR Melvin E. BUSTARD was the first Commanding Officer.
b. The KING is approximately 512 feet long and has a beam of 52 feet. Fully loaded she displaces 5600 tons and is capable of speeds in excess of 30 knots.
c. For armament, the KING is equipped with a Terrier missile Launcher which fires the Terrier, a surface-to-air, solid propellant, beam riding missile. Missiles aboard ship are selected automatically from the storage magazine below deck and loaded onto the launcher, which is then automatically aimed at the target and fired. Next is the anti-submarine battery consisting of the potent ASROC (anti-submarine rocket) system and two triple tube, torpedo launchers. Combined with the ship's high speed capability and maneuverability and the latest sonar equipment these weapons give KING a terrific sub killing potential. The KING is also equipped with one (1) 5"/50 mount forward and two (2) twin 3"/50 mounts amidships.
d. The KING was designed to outfit Fast Task Force as anti-aircraft defense ships with radar picket and anti-submarine capabilities. In order to accomplish this mission, she is provided with the latest in air search and fire control radar and sonar to detect the enemy and the most advanced anti-aircraft and anti-submarine missiles with which to destroy him.
e. After commissioning the KING was assigned to the Commandant, Thirteenth Naval District for fitting out. While under the control of COMTHIRTEEN KING underwent builder's trials at the Puget Sound Naval Shipyard, Bremerton, Washington prior to departing Bremerton for Shakedown Cruise and Underway Training. Scheduled departure date from Puget Sound Naval Shipyard and detachment from COMTHIRTEEN set for 14 January 1960.
M. E. BUSTARD
Copy to:
COMCRUDESPAC
COMDESRON 15
1961
Command History for 1961
From: Commanding Officer, USS KING (DLG-10)
To: Chief of Naval Operations (OP2915H)
Subj: Ship's History Report for period ending 31 December 1961
Encl: (1) Photographs of USS KING (DLG-10)
1. Ship's History Report for the USS KING (DLG-10) for the period ending 31 December 1961 is submitted herewith.
a. At the beginning of 1961, KING was at Puget Sound Naval Shipyard completing her fitting out period. While at Bremerton, KING was attached to Commandant THIRTEENTH Naval District.
b. KING departed Bremerton l4 January 1961 and reported to Commander Cruiser-Destroyer Force, U.S. Pacific Fleet in San Diego, for conduction of Ship Qualification Tests and Shakedown Cruise.
c. While in San Diego, KING successfully completed Qualification Tests including ASROC and Terrier firings.
d. Upon completion of Qualification Tests, 11 February 1961, KING proceeded to Pearl Harbor and the Equator on her Shakedown Cruise.
e. KING returned to San Diego, 28 March 1961 and commenced Underway Training. Underway Training was completed with an overall grade of Excellent.
f. Upon successful completion of Underway Training KING proceeded to Bremerton, arriving 21 May 1961 and commenced Postshakedown Availability at Puget Sound Naval Shipyard. During the availability, NTDS was installed and some minor alterations accomplished for accommodation of Commander Cruiser-­Destroyer Flotilla THREE.
g. Upon completion of the Availability and Sea Trials 4 October 1961, KING returned to San Diego and commenced NTDS evaluation which continued through 31 December 1961.
M. E. BUSTARD
1962
Command History for 1962
Note: The Command History document stop on 8 May 1962 and resume on 1 January 1964. These documents are presumed to be classified due to NTDS operations and testing.
From: Commanding Officer, USS KING (DLG-10)
To: Chief of Naval Operation (CNO 2915H)
Subj: Ship's history report for period 1 January 1962 to 8 May 1962
Encl: (1) Photographs of USS KING (DLG-10)
1. Ship's history report for USS KING (DLG-l0) for period 1 Jan 62 to 8 May 1962 ie submitted herewith.
2. The USS KING spent the first two weeks of 1962 berthed in San Diego at the Naval Repair Facility.
3. Several at sea periods followed the Christmas holidays to evaluate the NTDS/HICAPCOM equipment installed aboard the KING.
4. On 15 March the KING was given an NTPI by the staff of CRUDESPAC and received a merit of 98.17, the highest ever received by a ship of cruiser Destroyer Force Pacific.
5. During the month of April the NTDS evaluation was completed with KING again being acclaimed the "Most Outstanding NTDS Ship During the Evaluation" by RADM BERGIN, COMOPTEVFOR.
6. Since 27 April the KING has been in port preparing for Operation Pork Barrel, and then employment in WestPac.
M. E. BUSTARD
1963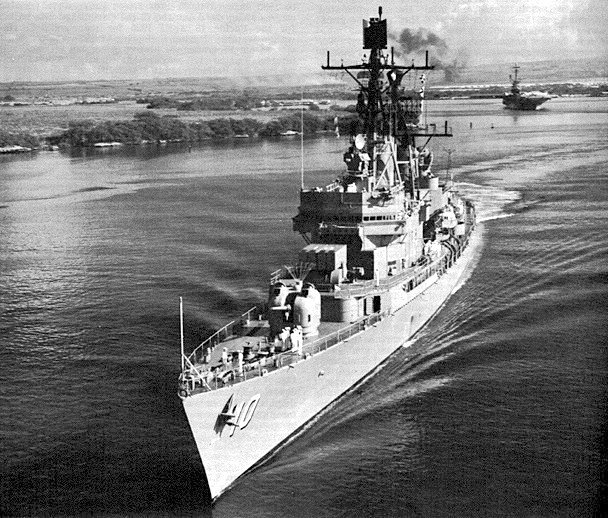 Command History for 1963
Note: The Command History documents for 1963 have not been made available from the Naval Historical and Heritage Center.
1964
Command History for 1964
Looking in retrospect now, KING's history during 1964 has been one of continuing challenge and success. KING's extensive operations in the Western Pacific continued during January and February as a unit of Task Group 77.5 and of special significance during this period was the fact that in January, KING successfully fired two Terrier missiles competitively. For this, the ship was awarded her second consecutive Missilery "E". In mid-February KING returned to Subic Bay. P.I. for a last upkeep period prior to returning to the Continental United States, and on 25 February we departed the Philippine area for home. KING arrived in its homeport of San Diego California on 10 March 1964 to commence a well earned leave period after better than seven months operations in the Western Pacific. There remained only a few brief tests with respect to the compatibility of the Naval Tactical Data System (NTDS) with the newly developed Air Tactical Data System (ATDS) prior to entering the Long Beach Naval Shipyard for overhaul.
With all compatibility tests completed, KING entered the Long Beach Naval Shipyard at Long Beach, California on 20 April 1964 to commence her first regularly scheduled major overhaul. Of special significance during this five month period were some of the major alterations introduced in KING to permit a more effective utilization of her varied capabilities. Accomplished work items included the installation of a more sophisticated ECM capability in the form of the ULQ-6, two additional NTDS consoles to offer embarked staffs a means through which they may be kept better apprised of special circumstances in the Anti-Air Warfare Environment, the conversion to the AN/SPG-55A radars to allow firing of the HT Terrier missile, and updating of the missile handling and loading equipment. Additionally, the crew' s quarters were completely renovated, including the installation of new laundry and galley facilities as well as a completely renewed mess decks. Upon departing from the Long Beach Naval Shipyard on 6 October 1964 KING could look back on an extremely successful overhaul with the overhaul completed on schedule, and all major equipments working satisfactorily, KING could point again with pride not only to her material readiness and freshly painted exterior, but to the green Operations Department "E" on the bridge superstructure, a white Gunnery "E" on Mount 51, a red Engineering Department "E" on her after stack and a white Missilery "E" and hashmark on her missile launcher and missile radars.
Since departure from the Long Beach Naval Shipyard KING has busied herself with the business of preparing for her next deployment now scheduled in April, 1965. The Ship's Qualification and Assistance Team (SQAT) embarked in KING during late October and early November and during their stay KING successfully fired three of four Terrier missiles. During this period and continuing through early December KING additionally participated with units of the Marine Corps and Naval Air Force for evaluation of NTDS, MTDS and ATDS. Though now enjoying a Christmas leave and upkeep period, KING remains a busy ship. On 9 December she successfully passed her NTPI for fiscal year 1964, received an outstanding on 10 December during her annual medical inspection and is preparing for underway training, now scheduled for late February and March. The arrival in January, 1965 of Commander C. P. TESH, USN, who will relieve Commander E. L. COCHRANE, Jr. as Commanding Officer is also anticipated.
1965
Command History for 1965
OPNAV REPORT 5750-4
From: Commanding Officer, USS KING (DLG-10)
To: Chief of Naval Operations (OP291SN)
Subj: Ship's History; submission of
Ref: (a) OPNAVINST 5750.7
Encl: (1) USS KING (DLG-10) Ship's History for period of 1 January 1965 through 31 December 1965
1. In accordance with reference (a), enclosure (1) is submitted
CHARLES P. TESH
Copy to: COMCRUDESPAC
The year 1965 has been a very eventful one in the life of KING. Most significant is our seven month deployment in which many KING records were established. KING steamed approximately 56,400 miles and checked in well over 10,000 aircraft during our tours in the South China Sea as a silent watchman. Some faces beamed as Captain TESH presented handclasp dolls and toys to the orphans at the Convent of the Good Shepard in Quezon City, Republic of the Philippines. Many other significant items occurred, such as selection of Destroyerman of the Month, the Ney inspection, the Hootenanny on station in the South China Sea.<.p>
January was marked with two significant events - a dependents Cruise on the 22nd and the change of command ceremony on 30 January, CDR CHARLES P. TESH, USN relieved CDR E. L. COCHRANE, Jr., USN.
The Cruiser-Destroyer Pacific news honored John Vines, BTl as the Sailor of the Month.
February was a busy month with six weeks of underway training commencing 8 February and in addition to this on 6 February KING performed the duties as Host Assistance Ship for the USS COONTZ (DLG-9), who returned from WESTPAC.
As DESRON 15's nominee KING received her NEY Award Inspection on 10 February.
During March KING made extensive preparations for her future deployment to WESTPAC (scheduled for 20 April). On 24 March Rear Admira1 WILLIAMSON, COMTRAPAC witnessed KING's missile shoot at the Pacific Missile Range. After her pre­deployment inspection in late March KING deployed for WESTPAC on 5 April, with the USS ORISKANY (CVA-34).
While operating off Hawaii, during the USS ORISKANY's ORI, KING fired a torpedo an assisted with NTDS.
May was a month of steaming, and for 30 days of operations in the South China Sea. KING accomplished many underway replenishments with various types of service vessels including AO 's, AF 's, AK' s and an AE.
During a June upkeep period in Subic Bay, Philippines a variety of Handclasp material was personally delivered by the Commanding Officer to the orphans at the Convent of the Good Shepard in Quezon City, Republic of the Philippines. The remainder of June was spent operating with CTG 77.3.
Most of July was spent on special operations in the South China Sea. On 24 July we concluded 37 continuous days at sea with a 10 day rest and upkeep period in Yokosuka, Japan. On the 5th of August KING departed Yokosuka for the South China Sea in support of carrier launched air strikes against North Viet Nam.
The 15th of September found us in Hong Kong, B.C.C. after a strenuous 40 days at sea. The 5 days in Hong Kong provided much needed rest and relaxation.
From Honk Kong, KING returned again to Subic Bay in the Philippines for a six day upkeep period prior to our return to the operating areas of the South China Sea. KING again returned to Subic on 16 October for a very brief goodbye to the Philippines.
This deployment for KING included many firsts and afforded adequate response in all the areas of preparation for the cruise.
KING spent some 161 days underway of the 211 days away from Horne. Among other items KING expend the following items in the seven month cruise:
30,264 pounds of beef
22,000 pounds of potatoes
2,640 gallons of ice cream
3,360 pounds of coffee
5,486,017 gallons of fuel
1,735,867 gallons of fresh water
On 18 October KING commenced the much awaited transit to continental United States.
A thirty day leave and upkeep period commenced immediately on return to San Diego on 2 November. At the end of the leave and upkeep period, 5 December, the KING participated in independent steaming exercises in the San Diego operations area. On 10 December KING stopped briefly at Seal Beach for missile handling.From 11 December to 31 December the KING enjoyed a holiday leave and upkeep period.
1966
Command History for 1966
From: Commanding Officer, USS KING (DLG-10)
To: Chief of Naval Operations (OP-09B9)
Subj: Command History
Encl: Command History of USS KING (DLG-10) for Calendar Year 1966
1. In accordance with reference (a), enclosure (1) is forwarded herewith.
R. W. HINE
By direction
Copy to:
CINCPACFLT
COMCRUDESPAC
COMDESRON FIFTEEN
1. CHRONOLOGY OF EVENTS
| | |
| --- | --- |
| 1-16 JAN | INPORT, SAN DIEGO, CALIFORNIA |
| 17-21 JAN | COMPOSIT UNIT TRAINING EXERCISE (COMTUEX 2-66) |
| 14-18 FEB | (COMTUEX 4-66) MISSILE SHOOT |
| 12-22 APR | FIRST FLEET EXERCISE "OPERATION GREY GHOST" |
| 26 MAY | DEPLOYED TO WESTERN PACIFIC - DEPARTED SAN DIEGO, CALIFORNIA |
| 31 MAY | ARRIVED PEARL HARBOR |
| 1-6 JUN | COMPTUEX 17-66, ORI, INPORT PEARL HARBOR |
| 6 JUN | DESTROYED LAST REGULUS MISSILE |
| 6-14 JUN | ENROUTE YOKOSUKA, JAPAN |
| 14-16 JUN | INPORT YOKOSUKA, JAPAN |
| 17-21 JUN | ENROUTE SUBIC BAY, PHILIPPINES AND OKINAWA FOR MISSILE SHOOT |
| 22-26 JUN | OPERATIONS FROM SUBIC BAY |
| 27-28 JUN | ENROUTE DANANG, SOUTH VIETNAM |
| 29-30 JUN | SEARCH AND RESCUE TRAINING |
| 1 JUL | RELIEVED TU 77.0.1 DUTIES |
| | PT BOAT ATTACK BY NORTH VIETNAM |
| 1-29 JUL | TU 77.0.1 DUTIES |
| 12 AUG - 7 SEP | PIRAZ DUTIES |
| 13-16 SEP | INPORT HONG KONG (TYPOON EVEASION) |
| 19-25 SEP | INPORT KAOSHIUNG, FORMOSA |
| 27-28 SEP | OPERATION SILVER SKATE |
| 29 SEP - 25 OCT | PIRAZ DUTIES |
| 8-10 NOV | INPORT CEBU, PHILIPPINES |
| 13-29 NOV | PIRAZ DUTIES |
| 3 DEC | CHANGE OF COMMAND, YOKOSUKA, JAPAN |
| 20 DEC | INPORT SAN DIEGO, CALIFORNIA |
2. BASIC NARRATIVE
The year of 1966 saw the USS KING (DLG-10) engaged in several new tactical and operational activities. She also served as the flagship for the Commander of Destroyer Squadron FIFTEEN at various times during the year. The KING is a member of Cruiser-Destroyer Flotilla SEVEN and the Cruiser-Destroyer Force, U. S. Pacific Fleet. Overall operations command was through the Commander of the FIRST Fleet while in EASTPAC and the SEVENTH Fleet Commander during the WESTPAC deployment. CDR Charles P. TESH served as the Commanding Officer of the KING for most of 1966. He was relieved by CDR William L. READ on 3 December 1966.
The KING's primary mission is Anti-Air Warfare through her formidable Terrier Missiles. The KING's ASW armament is bolstered by her ASROC system and surface launched MK 44 torpedoes. The ship's armament is rounded out by the conventional 5"/54 and two twin 3"/50 guns. In addition to these basic functions, while deployed in WESTPAC the KING also carried a UH-2 Helicopter which enabled her to act as a search and rescue ship in the Gulf of Tonkin. The KING also acted as the Positive Identification and Radar Advisory Zone ship which involved a new concept in air surveillance. Both of these activities were new to the KING.
OPERATIONS AND ACTIVITIES
Having recently returned from a WESTPAC deployment, the beginning of 1966, January 1-16, was spent as an upkeep period in San Diego. During this time many of the complement of 26 Officers and 375 enlisted men enjoyed leave periods. On the 17th of January, the KING returned to sea to participate in COMPTUEX 2-66. This was the beginning of the training period that preceded the KING's vital WESTPAC deployment later in the year. Exercises were conducted in AAW, ASW, Engineering, and Gunnery, as well as various other drills. Highlighting these exercises were the successful ASROC firing and the surface-launched torpedo.
At the close of these exercises KING returned to port on 22 January and remained in San Diego through 6 Frbruary, when she visited San Francisco for a weekend of rest and recreation.
From 14 to 18 February KING participated in COMPTUEX 4A-66, highlighted by a visit to the Pacific Missile Range on 15 February. Three RIM-2E Terrier missiles were fired at an unaugmented BQM-34A drone. Two of the three firings were successful kills, while the third was evaluated as a missile failure. The enclosed Quarterly Narrative for the 3rd quarter of 1966, specifies the reasons for this failure. Again, exercises in AAW, ASW, and Gunnery were the center of emphasis. KING returned to home port on 19 February, and except for two brief local operations, time was spent in preparing for the week of March 7 when the annual Administrative Inspection, Pre-deployment Inspection, annual supply inspection, and annual medical inspections were given. The remainder of the month spent in training for "Grey Ghost" exercise was particularly beneficial in preparing KING for her deployment in May. KING served as both Tomcat and a Search and Rescue ship, while the proper operation of her Naval Tactical Data System was given a great deal of emphasis. KING's contribution was acknowledged by her receipt of the NTDS cup signifying that she was the best operational NTDS ship in the exercise. Also significant in the KING's operation was the first firing of two Terrier missiles in salvo which resulted in the destruction of an AQM-26A drone. A complete and detailed summary of "Grey Ghost" may be found in Commander Cruiser-Destroyer Flotilla NINE final report of exercise "Grey Ghost", serial 008, of 21 May 1966.
The second of May found KING off-loading all ammunition at Seal Beach before a short overhaul period at Long Beach Naval Shipyard. Here KING was out-fitted with a helicopter landing platform on her fantail. This platform played an important role in search and rescue missions associated with U. S. Air strikes against North Vietnam. Installation of the platform included a JP-5 refueling system which provided KING with the ability to refuel helicopters both on deck and while air-borne.
On 26 May, the KING departed San Diego in company with the USS ORISKANY (CVA-34) and other destroyers for Pearl Harbor, arriving there on 1 June. From 1-5 June, KING conducted daily operations, including the competitive Operational Readiness Inspection and ASW exercises. Another successful ASROC firing was also made during this period. While in port, the crew participated in a tour of the island and enjoyed the Hawaiian beaches.
KING departed Pearl Harbor on 6 June for Japan, when she arrived in Yokosuka on 14 June 1966.
From YOKOSUKA, the ship sailed to the Okinawa Missile Range and conducted a missile missile exercise which was evaluated as unsuccessful since the missile did not acquire the target. On 22 June the ship entered Subic Bay, Philippine Islands and resumed its previous role of flag ship for Commander Destroyer Squadron FIFTEEN. Leaving Subic on 24 June, the KING arrived at Danang Harbor, Vietnam three days later, where Search and Rescue training was conducted for 4 days. This training was done mostly at night and included operations with friendly PT and Swift Boats. Many night illumination exercises involving aircraft were conducted. This training was to reap dividends sooner than anyone expected.
KING reached her assigned station, about 30 miles southeast of the North Vietnamese port of Haiphong, on the morning of 1 July. Here she was to relieve a sister ship of the KING, the COONTZ (DLG-9). For the relieving process, Captain TESH, with various other officers, went aboard COONTZ via KING's boats. An intelligence briefing was given and officers and men from the KING observed the COONTZ's performance during a series of air strikes conducted by planes from U. S. attack carriers located about 50 miles south of the Northern SAR station. During these strikes, a pilot was repoted shot down near the coast, and the COONTZ and ROGERS started towards the scene. KING, along with the USS GURKE, closed the COONTZ to assist. It was at this time that ROGERS reported three high speed surface contacts closing the four destroyers. After being notified, COMDESRON SEVEN, who was OTC, in COONTZ, requested aircraft assistance from Yankee Team carriers to the south. Rapidly responding to the call, F-4 Phantoms and A-4 skyhawks closed the scene and quickly sank two of the boats with bombs. The third remained dead in the water with most of its stern blown off. Upon completion of the air strikes COONTZ closed this craft to pick up survivors. On her way she sighted survivors fro another of the torpedo boats and sent a message to KING directing her to pick them up. A total of nineteen prisoners were taken. Many had to be subdued before they could be brought aboard the motor whale boats sent out by KING and COONTZ to rescue them.
During the entire episode, many of KING's officers, including Captain TESH, remained aboard COONTZ. The KING, now under temporary command of the Executive Officer, CDR Lawrence LAYMAN, was able to perform her duties smartly, a tribute to the high level of training and readiness achieved. Seaman HAITH and Petty Officer GARY received the Navy Commendation Medal for their heroism in subduing North Vietnamese sailors in the water during this action.
1990-91
Command History for 1990-91